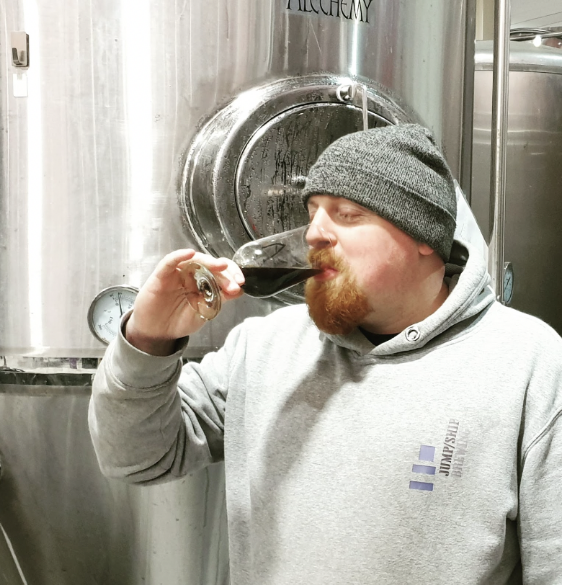 What makes our beer so special?
Instead of stripping the alcohol out of our beer (along with flavour) we design our beers to be naturally less than 0.5% ABV.
Using the finest ingredients, together with no end  of skill, care (and the occasional swear word), we've fine-tuned our brewing methods to create alcohol-free beer that's full-bodied and full of flavour.
A carefully balanced process
We carefully manage the temperature when grains and water are mixed together in the mash to extract maximum flavour and produce fewer sugars that can be turned into alcohol.

The tricky bit! We've hit the sweet spot by triggering enough fermentation to allow flavour to develop, but not the alcohol.

Our beers aren't rushed. Flavours develop over time as our beer conditions in tank.
A skilful blend of the finest ingredients.
Collapsible content
Malts and
grains

We don't use a huge amount of grain in our beer compared to full-strength beer, but by using the most flavoursome malts from high quality British producers, we achieve incredible depth and complexity. Adding wheat and oats to some of our beers helps to add the body so often lacking in alcohol-free brews.
HOPS

We use the finest hops to add amazing aroma and a balancing bitterness to our brews. It takes a careful hand. The flavours from our hops can be easily lost in the brewing process. If we get it wrong, they can be harsh and overpowering in a low alcohol beer. 
Yeast

Yeast is where the magic happens, transforming raw beer into something beautiful through fermentation. Working with specially selected yeasts, we carefully control our beer's fermentation to create plenty of flavour, minus the alcohol. 
WATER

Soft, Scottish water is the perfect base for our beers. Naturally low in salts and minerals, it's easy for us to create the desired flavour profile for each of our beers.
Not content with just brewing delicious beer, we've also designed our core range of beers to be gluten-free and vegan, so everyone can join our crew.
Want to hear about our latest news and releases? Sign up here.